Generating qualified business leads on line, and capitalizing on targeted traffic, ultimately comes down to combining appealing video and well-written, thought-provoking content with a clear call-to-action. Granted, it's much easier said than done. After all, "appealing" and "thought-provoking" are great buzzwords, but how does a company go about making these aforementioned criteria real? Well, to help, here are five essential lead generation tips that allow you to turn these all-too-familiar clichés into actionable strategies.
1. Leveraging Brand Champions Through Social Media

Brand champions are those loyal customers who would never buy from another company. These are the brand evangelists who see your business, its products and services, and your approach to market, as second to none. They return again and again because your value proposition makes sense to them. More importantly, they make their voices heard through social media.

Your consumers are always on the move and always in touch. They share what they like most about your company with friends and family members and they use social media as their microphone of choice. Your job is to leverage these contacts by fully embracing social media and all it has to offer.
Get involved with social media.
cc image courtesy of mkhmarketing on flickr

2. Maximizing Budgets: Local SEO Optimization

It's wrong to assume that you need an expansive budget in order to enact an expansive plan. Instead, focus on simple and straightforward marketing strategies and outreach programs with minimal capital outlays. Local search engine optimization (SEO) is critical to ensuring that your business is front and center in your immediate market. Here is a small list of some low-cost local SEO strategies to implement immediately.
Link building with complementary businesses in your town or city.

Getting a link on a chamber of commerce website.

Focus local SEO content and organic search strategies on the following three keyword-phrase segmentation strategies:

Information Keyword-Phrases: Content with keyword-phrases that focus on providing information that links directly to your landing pages.

Navigation Keyword-Phrases: Content with keyword-phrases outlining your address, availability, products and services.

Brand Name Keyword-Phrases: Content with keyword-phrases defining your brand name and current deals or discounts.
3. Rewards, Incentives and Rebates that Increase Engagement

New business leads often come from customer references. Yes, even in today's digital age it's not uncommon for companies to benefit from word-of-mouth advertising. However, that ultimately depends upon your ability to incentivize your customers to share what your company does, how well it does it and why your company is so unique.

Rewards, discounts and rebate plans are excellent customer engagement tools and ideal for generating internet leads. These customer compensation strategies can be used on landing pages, within email marketing campaigns and as a call-to-action for those customers looking to place their first order.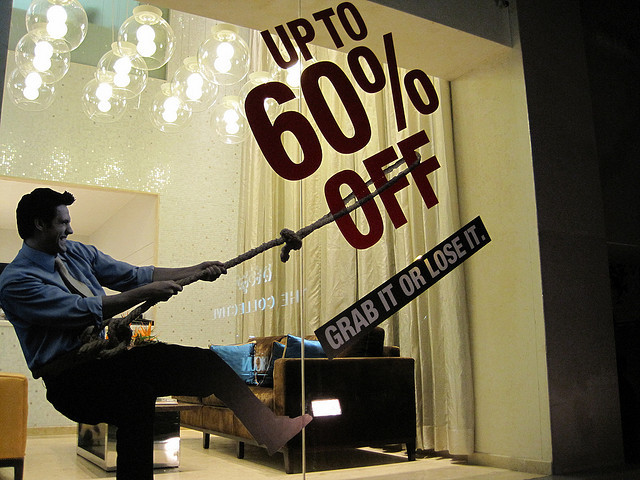 Incentivizing customers to act.
cc image courtesy of najeebkhan2009 on flickr

4. Running A/B Split Tests

An A/B split test is an optimization process and a critical tool to generating leads on line, driving targeted traffic to your website and converting more visitors into customers. It can help you increase your CTR on pay-per-click (PPC) advertising, while also helping to improve your website's conversion rates.

The test involves a making one single change at a time to your PPC campaigns, and or website's layout, and then measuring whether the change improved CTR. Changes can include modifying fonts and images, moving links and banners to high-traffic areas, trying different types of content and video, and or tweaking your call-to-action.

5. Definitive Call-To-Action and Content Creation

Content has and always will be king. However, your content, and your call-to-action, must be focused on a specific customer segment, one that is most likely to move forward by placing that first order. Relevant content is quality content. Unfortunately, most marketers lose sight of whom they should focus on. To help, here are some tips to make sure your content is focused on your target audience.
Have we given them what they want?

Have we solved their problems and answered their questions?

Does our landing page have clear instructions?

Is our value proposition clearly conveyed?

Do we have a definitive call-to-action or is it ambiguous?
In the end, generating new business leads comes down to focusing on your target audience and leveraging them to grow market share. Provide great content that drives customers to your website and then push them to move forward with a concise call-to-action.