Does your business play well with others? If you're looking for business-to-business leads, use your inbound marketing strategies to draw those leads in, creating and solidifying your relationships with other businesses. These strategies will help you excel at developing B2B leads.

1. Gather Information

Whether you're looking for leads from the public at large or seeking out B2B leads, you should begin by learning about your audience. Examine the keywords that bring buyers in the doors, and survey existing and prospective clients. How did they find you? What are the needs of your B2B clients? What would improve your business relationship even further? By understanding your market, you can create a tightly-focused plan to connect with more B2B clients.

2. Manage Your Information

When you're collecting information about your B2B clients, you need to have a place to put it. Even better, you need a venue where you can analyze this data for trends so that you can understand your customer groups and each individual customer. Investing in a customer relationship management system allows you to collate your customer data and gain insight about your customers.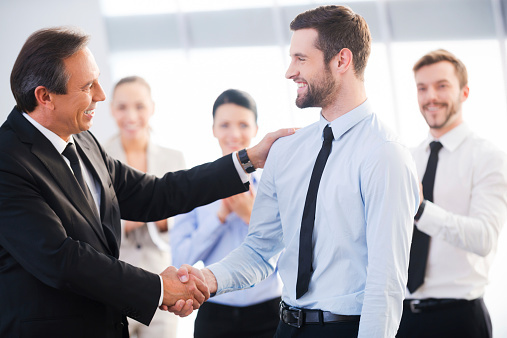 By solving your business clients' problems, you develop a solid relationship.

3. Develop a Relationship

Modern marketing is sometimes about using a bullhorn to make announcements about your products, but it's often about developing a quieter, deeper relationship with your leads and clients. By providing information that's valuable to your leads, you draw them into a trusting relationship that could be mutually beneficial. The lead knows that you're a leader in your field. When they are ready to seek out a service that you provide, they'll turn to you. Building trust is a first step to lead generation.

4. Provide High-Value Items

As a business who works with other businesses to meet their needs, you have a unique perspective and an ability to specialize your content. For example, if you provide web development services to small businesses, you can create content that speaks specifically to the needs of small businesses when it comes to their web development. When you're developing these items, ask yourself how you're solving your leads' problem or offering new insights into their situation. By creating higher-value products such as e-books and webinars on these niche topics, you can target your inbound marketing and build your relationship with customers.

5. Get Visual

While content is important, make sure that you arrange it in a way that's visually pleasing and accessible to your busy B2B clients. Whether it's an infographic or a stunning visual, you'll find that your pictorial posts are easy for your clients to read, engage with, and share.

6. Go Social

Social media isn't just for individuals. Companies like yours use it to follow other companies as well, and many of the individuals who follow your corporate social media accounts are likely connected to your field. When you're posting on social media, remember to speak to your B2B audience as well as all of the individuals who help your business grow.

When you're providing services to other businesses, you need to use your marketing savvy to develop relationships with these valuable leads. Digital Inbound can help. We can help you develop your web presence so that you become an effective business-to-business marketer.